Our "Dollar The Dragon" Kids Corner module has been an overwhelming success story for banks across the country.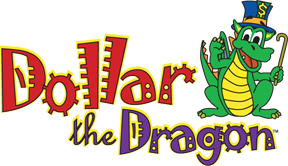 The creative marketing techniques it has inspired have attracted high volumes of new business, increased website traffic, and opened record-breaking numbers of Passbook Savings Accounts.  The attention it has brought to banks couldn't be more positive, because it provides a valuable community service by educating kids about banking.
"We started using Dollar the Dragon when we first signed on with The Forms Group in 1999 and found it to be a valuable addition to our Website. In 2003 we purchased a mascot costume and appeared in parades and special promotional appearances. But the popularity of Dollar and the hits to the pages on our site didn't really take off until we started the Dollar the Dragon Kids Savings Club in July 2007. Since then, we have over 814 members (age 12 and under) with $619,000 in deposits (Avg. $760.44 per account). Many make regular visits to their local Branch to make deposits, so they can get a sticker for their savers card and earn credit towards great gifts. Most use our handy coin sorting and counting machines to earn an extra sticker for their deposit." — Mark A. Graziadio, Vice President, The Honesdale National Bank.
"Dollars and $ense for Kids" is a fully interactive 50 page website, specially designed to teach kids what banking is all about. It works because, unlike other knock-offs, it is designed for kids with input from kids.  Children want content that is entertaining, funny, colorful and uses multi-media effects.  Enter, "Dollar the Dragon," our banking super-hero who may soon be the most important green, fire-breathing character employed at your community bank. Kids love him. Adults do too.  More so, you'll love what he can do for your public image and your bottom line. BankSITE® brands its ""Dollars and $ense for Kids" website with your bank name and provide you with all the materials you'll need to launch your own marketing campaign. Posters. Statement Inserts. Counter Take-One's. Classroom Flyers. Pressure Sensitive Labels for Passbook Savings Accounts. Think of the possibilities. Imagine your branch manager speaking to kids at your local elementary schools about how a bank works and passing out our "Dollar the Dragon" flyers with your website address listed. Imagine the homework assignment that night, when kids and their parents visit your website to check out "Dollars and $ense for Kids." Only trouble is, Mom and Dad will want to open a "Dollar the Dragon Savings Account" too! Luckily, they'll now have access to all your other products and services.