Personally relevant and  tailor-made for everyday decisions. Choose from 50 calculators.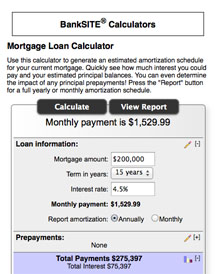 Give your customers the most comprehensive version of the most visited page on any bank's website, so they have no reason to ever leave yours. BankSITE® Calculators are so simple and user-friendly, that your customers will come back to your website again and again to make important financial decisions. They'll be one of your greatest lead generators.
BankSITE® Calculators enable your customers to figure out just about anything. How much home can I afford? Should I refinance my mortgage? What will my home or auto loan payments be? What's the interest on my CD? Should I borrow from my 401k? How big a line of credit can I receive? How do I reach my retirement goals? BankSITE® Calculators provide customized reports for your customers. So many questions.
BankSITE® Calculators have the answers.