Marketing Tools & Traffic Builders
BankSITE® Knows Marketing. 
We Know How To Build Your Traffic and Bring You Business.
That's why we give your customers all the tools they need. Imagine your online presence transformed— give the power of your website back to your community. without ever having to leave your office.
Interactive Self-Tests
In One-Minute, Dreams May Be Realized, Fears Removed, and Action Initiated.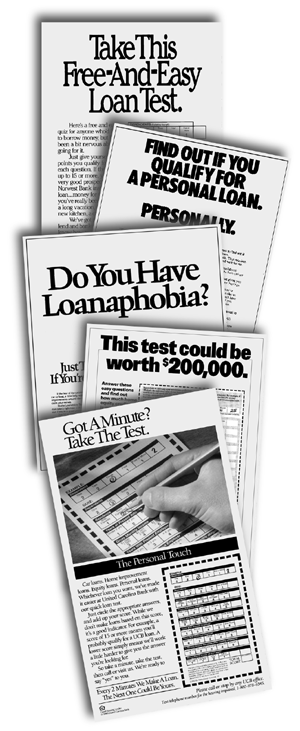 It only takes a minute for customers to view of their financial picture. And in just one minute, banks have the potential to redefine easily they can motivate their customers.
Got A Minute?

Fear of rejection remains the #1 reason why consumers are wary of taking that first important step of applying for a loan. Prospects hesitate to invest because they worry they're making the wrong choice. The anxiety that fuels this stigma is responsible for a vast and unknown volume of loans that would of, could of, and should have been applied for; deposit and investment customers lost, before you even had the chance to reach out to them.
We understand this fear and have helped thousands of leading financial institutions across the country overcome this issue for decades with our copyrighted Score Yourself System. Our Self-Tests act as a stepping-stone for customers who fear taking that first step in the application process. They empower customers. They educate. They motivate. And they meet compliance guidelines.
Prospects are attracted to our interactive online Self-Tests in the privacy of their own homes or on-the-go, and their results help determine whether they are good candidates for your products. Customers literally "score themselves" and receive immediate positive feedback on thier "test" results, a summary of what their score means, and how they personally can benefit from your bank's products and services. This feedback acts as an invaluable motivational tool to help bring you more business. Almost everyone is encouraged to respond in varying capacities regardless of their score. And your bank can set it's own parameters.
The results have been unanimously and undeniably successful. The benefits to our clients have been astounding. It's obvious that our Score Yourself System will motivate more prospects to fill out your application while they are still excited about their test results, thus increasing your business significantly. This is a guarantee. But the far-reaching effects of Score Yourself might surprise you.
After taking a Self Test, your customers have something to feel good about. They'll feel a renewed sense of comfort and confidence about their decisions. They'll feel that your bank cares about them as an individual. They'll feel good about doing business with you. Take a look at our wide-ranging variety of Self-Tests for yourself.
TRY ONE. It only takes a minute.
---
Financial Calculators
Personally relevant and  tailor-made for everyday decisions.
Choose from 50 calculators.  GO FIGURE!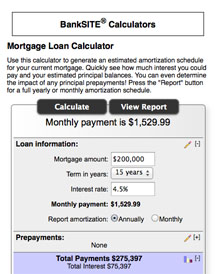 Give your customers the most comprehensive version of the most visited page on any bank's website, so they have no reason to ever leave yours.
BankSITE® Calculators are so simple and user-friendly, that your customers will come back to your website again and again to make important financial decisions. They'll be one of your greatest lead generators.
BankSITE® Calculators enable your customers to figure out just about anything. How much home can I afford? Should I refinance my mortgage? What will my home or auto loan payments be? What's the interest on my CD? Should I borrow from my 401k? How big a line of credit can I receive? How do I reach my retirement goals?
BankSITE® Calculators provide customized reports for your customers. So many questions. BankSITE® Calculators have the answers.
---
Secure Applications
Our BankSITE® Secure Applications are simply the best in the business. 
No printing. No downloading. No worries.
You know how much business you have based on the volume of applications you receive each week. However, you'll never know how many additional applications you might not have received, or the volume of new business you lost to the bank across the street, if you don't use our Secure Online Applications.
Imagine how many families in your community make business decisions over kitchen table conversations every evening. Imagine how many decisions are made after the kids have gone to bed and parents get down to business. Your bank's website may be the first place decision-makers go to find out more about how to start the application process. Don't send them to your competitors. Make online applications able to them!
BankSITE® Secure Applications allow your customers to connect with your bank right there—on the spot, and start the process with you in the comfort and privacy of their own homes. A customer's online application search may or may not start with you, but with our Secure Online Application System, we guarantee that your bank is where their search will end.
If You Use Them, Customers Will Apply.
Here's Why— 
Our copyrighted Score Yourself System motivates more prospects to fill out your applications on the spot, because of the comfort and confidence our Self Tests give your customers.  That's what makes our Secure Online Applications different. We drive customers directly to your application forms, literally. After any Score Yourself Test, customers are instantly directed to relevant applications, while they still feel pleased about their test results.
Your Result—
More applications received. More happy customers. More business.
BankSITE® Services accepts nothing less than providing our clients with the simplest, most effective and efficient methods of obtaining Secure Online Applications from their customers. From the second an online application is submitted from a customer's PC, until the time you log into our BankSITE® Secure Server to retrieve the application, all customer data remains encrypted full circle. The data is so secure, we don't even have the ability to view your customer applications.
Our Secure Online Applications. Bringing security, simplicity and convenience to your customers. Just another quick and easy tool BankSITE® provides for you, to make sure you optimize your results and stay ahead of the curve.
---
Talk-Back Features
Take your website to the next level with our high powered interactive "talk-back" features. 
Blogs, Polls, Surveys, and Neighborhood Event Calenders.
BankSITE® Blogs connect you directly to your customers.
How often can an ordinary customer communicate directly with a bank President? How often does a bank President communicate directly with an ordinary customer? Your new BankSITE® Blogs will bring back the spirit of community banking in a setting where you may have least expected you'd be able to reclaim it—the Internet.
The possibilities are limitless and very exciting. Your loan officer could write a weekly blog on the importance of good credit. Your investment officer could start a monthly blog about consumer opportunities. Your bank President could write a blog that addresses the community. You may even invite prominent people in your community to write a guest blog.
Customers can respond. They'll "talk-back" to you. New dialogue will spark interest and involvement and improve education. You approve all content and all customer posts on every Blog. Enhance your communication with BankSITE® Blogs. Your customers will appreciate how you care.
BankSITE® Polls give you instant feedback.
Want to know what your customers think?  Post a poll. Your customers will get involved. You'll get informed. It only takes a second to post your poll question. You'll be glad you asked.
BankSITE® Surveys help you improve your services.
Want advice on how to better serve your community? Post a BankSITE® Survey. All surveys are 100% confidential. Give your customers a voice. You're the only one who'll ever hear it.
BankSITE® Event Calendars make your website a gathering place.
Community banks were historically built in the center of town. Now, no matter where your bank is located, your Neighborhood Event Calendar can make your website the central hub for your community. Individuals and Organizations can submit the day, time and type of event they'd like to add to your Calendar.  If you click approve, it's instantly added. Image that— your community bank taking an active interest in your own community.
Your customers have a lot to say. Be the bank that offers to listen.
---
Search Engine Optimization
Does your bank's website make the Google's Top 10 List? How about Yahoo's Top 5?
Today there will be millions of searches performed on the Internet by consumers in your community who are looking for products and services that your bank has to offer. The process of getting your bank's website to the top of any search engine's list, is called Search Engine Optimization. We understand that top rankings are important for your bank. More importantly, those top search rankings should bring you targeted traffic that produces new customers and more business. BankSITE® can improve your website's search engine ranking. We'll improve the volume and quality of traffic to your website from Internet searches. There is no better time to consider SEO than when you redesign your website or launching a new one. At BankSITE®, will make sure that your website is "search engine-friendly" from the very beginning. There may be bigger banks in your community. But, that won't stop you from being listed #1.
---
Social Media
Twitter. Facebook. LinkedIn. RSS Feeds.
You may let out a proverbial groan or sigh at the sight of these four little words. You may think they have little to offer you. To that, we simply say: What are you thinking! BankSITE® will get you integrated and keep you connected with over 225 social media webistes. Unleash the power of Social Media Marketing and discover what it can mean for your bank.
Think ahead of the curve.
We don't blame you for any uncertainty you may harbor when it comes to taking a dip into the world of social media. But we know the bank you want be for your customers and that's why we encourage you to re-draw your lines of customer service and take your business to the next level.
Start a conversation with your customers on their turf. If you're serious about reaching out to your customers and new prospects, you'll need to take your bank to them.
Understanding your customers is the key to building loyal relationships.
Your customers use social media to connect with the world. You can use social media to connect with your customers. You'll better understand what makes them tick. You'll open a  direct line of communication with them. You'll create brand new opportunities that break the mold of traditional sales channels. By entrusting marketing messages to your customers you'll begin an authentic, honest dialogue that your community will trust in and respect.
Demonstrate to your customers that you "get it."
Social media is live and instantaneous. It's real and it's personal. It's straightforward marketing—the personification of "community-centered." A bank that uses social media says to its customers, "We are committed to dealing with you on your terms because we care about you and value your business." It is a bold sign that shows your bank is interested in improving your customer's experience. And that is what your customers want— they want you to level with them. They want you to "get it."
Get out your special promotions. Spread the word.
We admit, as phenomenal as your website will be when you develop it with BankSITE®, it is unlikely that all of your customers will check it daily. They will however, check their Twitter and Facebook accounts everyday. In many cases, several times a day. If you want to communicate what's happening at your bank, there is no better way then with a simple "Tweet" on Twitter or "Wall Post" on Facebook.
---
Kids Corner Module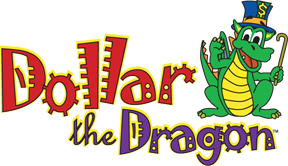 Our "Dollar The Dragon" Kids Corner module has been an overwhelming success story for banks across the country.
The creative marketing techniques it has inspired have attracted high volumes of new business, increased website traffic, and opened record-breaking numbers of Passbook Savings Accounts.  The attention it has brought to banks couldn't be more positive, because it provides a valuable community service by educating kids about banking.
"We started using Dollar the Dragon when we first signed on with The Forms Group in 1999 and found it to be a valuable addition to our Website. In 2003 we purchased a mascot costume and appeared in parades and special promotional appearances. But the popularity of Dollar and the hits to the pages on our site didn't really take off until we started the Dollar the Dragon Kids Savings Club in July 2007. Since then, we have over 814 members (age 12 and under) with $619,000 in deposits (Avg. $760.44 per account). Many make regular visits to their local Branch to make deposits, so they can get a sticker for their savers card and earn credit towards great gifts. Most use our handy coin sorting and counting machines to earn an extra sticker for their deposit."
— Mark A. Graziadio, Vice President, The Honesdale National Bank
"Dollars and $ense for Kids" is a fully interactive 50 page website, specially designed to teach kids what banking is all about. It works because, unlike other knock-offs, it is designed for kids with input from kids.  Children want content that is entertaining, funny, colorful and uses multi-media effects.  Enter, "Dollar the Dragon," our banking super-hero who may soon be the most important green, fire-breathing character employed at your community bank. Kids love him. Adults do too.  More so, you'll love what he can do for your public image and your bottom line.
BankSITE® brands its ""Dollars and $ense for Kids" website with your bank name and provide you with all the materials you'll need to launch your own marketing campaign. Posters. Statement Inserts. Counter Take-One's. Classroom Flyers. Pressure Sensitive Labels for Passbook Savings Accounts. Think of the possibilities.
Imagine your branch manager speaking to kids at your local elementary schools about how a bank works and passing out our "Dollar the Dragon" flyers with your website address listed. Imagine the homework assignment that night, when kids and their parents visit your website to check out "Dollars and $ense for Kids." Only trouble is, Mom and Dad will want to open a "Dollar the Dragon Savings Account" too! Luckily, they'll now have access to all your other products and services. |
---
Money Matters for Students Module
The "first key" for Students to achieve financial success is financial education.
At BankSITE®, we understand the financial challenges facing students. The rising cost of tuition. The broad range of financing options. And, the mountain of debt students are left to contend with. As such, today's college student must learn to become more of an expert on when to spend and how to save, and how to use and not abuse available credit. Most students however, arrive onto their college campus without even the most basic knowledge of how to manage their personal finances.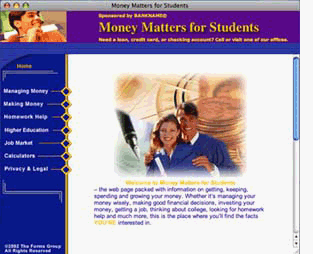 That's why we created our BankSITE® "Money Matters For Students" website module. It's a fully interactive 50 page website completely devoted to the educating high school and college age students about money matters. It's packed with solutions for making, keeping, spending and growing their money.
"Money Matters For Students" is a forum where students will find the facts when it come to just about anything that has to do with their finances. From managing money more wisely, investing and making sound financial decisions to thinking about college, getting a job— and even writing a resume!
BankSITE® is committed to helping you educate the new generation of students in your community about managing their money. The results will improve their lives—now and in the future. With "Money Matters For Students," your community bank plays a crucial role in the shaping he financial well-being of young students. This service to your community is invaluable. Parents will thank you. The students in your community may thank you too, someday.
Starting responsible money management from the get go. Seems like a simple solution for our kids and for your community.
---
Debt Consolidation Module
Give your customers the tool to reclaim control of their financial picture with our BankSITE® Debt Consolidation Module.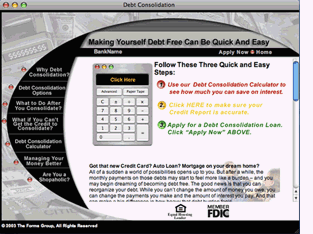 Educate customers about the importance of maintaining good credit. Help customers manage their money more wisely. Motivate customers to pay off their higher credit card balances with a home equity loan. 
Our Debt Consolidation Module helps your customers where they need it. In a matter of moments, it shows them how much they can personally save and how much lower their payments might be when they apply for a debt consolidation loan from your bank. Keep your website personal. Your customers will take it personally.
---
Talk to your customers. Let them "talk-back".
It's a simple solution that could bring you unimaginable results.