Secure bank website hosting is of highest priority
That's why we're committed to maintaining our network infrastructure with layers of security and monitoring systems.
As a general rule—we've always suggested that it's important to host your "regular bank website" with a vendor like us, separate from your Online Banking vendor. That way, if your Online Banking service is ever interrupted, the regular website of your bank hosted with us gives you the capability to communicate with your customers. And with our BankSITE® Builder content management system, you can log into your website from anywhere, anytime— to post a message to your customers about an Online Banking "service interruption". Now that's forward thinking.
Virtual Private Servers (VPS) Containers
Our Primary Data Center is located at an AT&T's SSAE 16 SOC 1 Facility, just minutes from our headquarters in Scottsdale, Arizona. We also maintain a second Disaster Recovery Data Center at an undisclosed location. Bank and credit union websites are hosted and maintained on a clusters of servers inside their own individual "virtual private server" containers with all of the software necessary to run their websites. Our ironclad containers provide the best level of protection for client websites, rather than being hosted inside shared directories that are offered by our competitors. And by using our VPS system, we have the capability to instantly move bank and credit union websites from one server to another with no downtime.
AT&T's DDoS Defense System
In addition to the security practices of other companies that may only manage firewalls, intrusion prevention and intrusion detection systems, we've taken our level of security to the next level by implementing AT&T's DDoS Defense System for added protection against Distributed Denial of Service (DDoS) Attacks. AT&T monitors our network 24/7, and at the first sign of an attack, they have our prior authorization to immediately divert and filter our traffic upstream, and only send good traffic to our network.  Simply stated— this service provides the best level of protection for any bank or credit union on the Internet. In addition, our Attack ByPass System allows you to redirect your customers on a selective basis to your Online Banking Website. You may specify an automatic or static page redirect with your own maintenance notice. AT&T can stop ANY size attack within minutes, since their backbone is a peering center for the Internet, whereas our competitors may need to rely on the maximum throughput of a network appliance which has limitations depending on the size of an attack.
BankSITE® Security Monitor
We believe that if you have an issue with your bank or credit union website, you should know about it, so you can react immediately. Unlike some other vendors, we want you to know the status of your website and security at all times. That's why we've created our "exclusive" BankSITE® Security Monitor. It monitors your website 24/7 and automatically alerts you to: 1.) Connectivity issues; 2.) Changes to your bank or credit union website pages; 3.) Domain name registration and DNS record changes; 4.) Hijacking of your website; and, other events that you should know about. It's simple and easy to use. There's nothing for you to install. And, you remain in complete control to change your monitoring settings, such as who and how you want to be alerted— by email, or text messages. You can also view, print, and save monthly logs to your PC for submission to the Federal Examiners.
Daily Malware Scanning
Malware (malicious software) is the biggest threat banks and credit unions face on the Internet today and it effects millions of websites each year. The challenge is that even with anti-virus protection software with "behavioral analysis technology", you may not be able to stop a "zero day virus" that presents itself today from infecting your PCs. That's because a "zero day virus" is so new that your anti-virus software vendor doesn't have a virus definition written for the malware to automatically protect your network. That's why we scan client websites daily for malware, malicious javascripts, malicious iframes, drive-by downloads, suspicious redirections, IE-only attacks, and also determine whether your bank or credit union website is blacklisted according to Google and Norton Safe Browsing Standards. If malware is detected, we can easily restore your website from a prior day's backup. This service is the quickest, safest, and surest way to eliminate malware from your website.
Third Party Vulnerability Assessments
Although we keep software up-to-date by routinely installing patches and version updates— as an added precautionary measure, we use Trustwave to perform Third Party Vulnerability Assessments on our network. Any potential vulnerabilities that may be discovered are immediately mitigated. Reports are provided to clients to meet the guidelines of the Federal Examiners. We pledge to provide you with more than just great service and security. We pledge to provide you peace of mind to keep you "in the know". We believe it's better for us too. It gives us credibility and solidifies your trust in us.
---

Location. Location. Location.
A key advantage so vital that it deserves its own map.
Located in the Phoenix  Metro Area, our facilities are virtually immune from exposure to the natural disasters present in almost all other areas of the country. Just one more benefit when you work with BankSITE® Services.  We understand the bigger picture so you don't ever have to worry about it.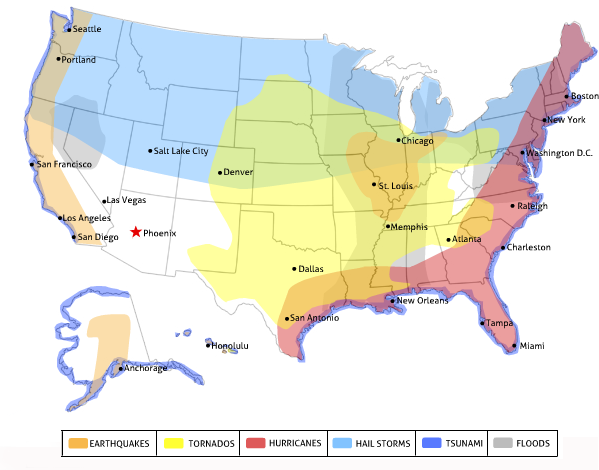 ---
Ironclad Secure Hosting. Honestly. That's just the way we do business.